The Up In Smoke tour featuring Cheech & Chong & War has been tearing it up in venues across the country all summer. This winter, the tour will stop at The Chicago Theatre on Tuesday, December 31st, 2013 as part of Chicago's 11th Annual Greatest Night of Comedy.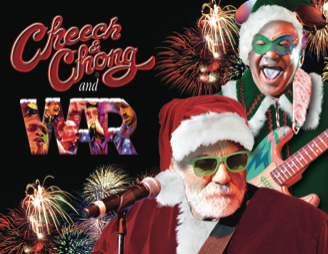 The iconic comedy duo Cheech & Chong defined an era with their hilariously irreverent, satirical and counter-culture routines. Highlights for Grammy-winning Richard "Cheech" Marin and Tommy Chong include 9 hit comedy albums and shattering record sales, along with 8 hit feature films which they co-wrote and starred in. All films were directed by Chong. Their first film, "Up In Smoke", the highest grossing comedy of 1978, topped $100 million at the box office. In 2009, the duo made history when comedy partners Cheech Marin and Tommy Chong announced their first reunion tour in over 25 years, selling out shows from coast to coast. Last April, Cheech & Chong's Animated Movie came out theatrically and on DVD, showcasing the legendary toker jokers in animation as they bring to life their outrageous routines and laugh-out-loud lines from their historic albums.
The Up In Smoke New Year's Eve Party is a complete integration of WAR's timeless catalogue and Cheech & Chong's no authority brand of comedy and music. The party begins with WAR playing hit after hit such as "Why Can't We Be Friends" "Low Rider" and "Cisco Kid." The show progresses to a combination of Cheech & Chong's Famous songs like "Earache My Eye", "Basketball Jones " and "Mexican Americans" and some of their most iconic comedic skits like "Dave's Not Here" "Santa Clause and His Magic Dust." Seeing War & Cheech & Chong jamming together on the same stage has been described as a genius night of music and comedy.
Internet pre-sale is this Thursday at 10am local time via the ticket links above.
Public sale is Friday at 12pm local time.