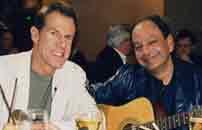 In case you missed it, Richard "Cheech" Marin was on the Food Network's "Bill Boggs Corner Table" not too long ago. The Cheech segment took place at Cheech's favorite restaurant, Aqua. We here at Cheech and Chong Dot Com have been to the Aqua in NYC and this restaurant is EXPENSIVE. There are no menus. If you have to ask what the price is, you shouldn't be there.
Richard and Bill joked around for a while. At one point, Bill asks Cheech what was in that huge joint (referring to Up in Smoke). Cheech replies, "Stunt Weed." The two enjoyed a four-course meal which included a chocolate shake made using Aqua's own root beer which is brewed on site.
Click on the thumbnail above to see the entire photo. Bill Boggs Corner Table was kind enough to send us this photo.