Sony Pictures Worldwide Acquisitions Group has acquired most international distribution rights for Robert Rodriguez's "Machete."
One of the best and most underrated films of all time was 2007's Grindhouse. The film, which was written and directed by Quentin Tarantino and Robert Rodriguez, was a double-feature inspired by the low-budget grindhouse films of decades past.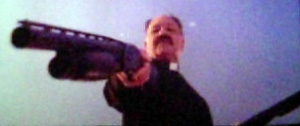 During the "intermission," fake movie trailers were shown. The most popular trailer was Machete. It stars Danny Trejo and Cheech Marin. Cheech Marin is Trejo's gun-toting priest vigilante brother. Memorable quote..."God forgives, I don't."
Story centers on a former Mexican police officer who turns the tables on the masterminds who double-crossed him. Rodriguez, who wrote the screenplay, co-directs with Ethan Maniquis.
Cast includes Danny Trejo, Rose McGowan, Robert De Niro, Jessica Alba, Michelle Rodriguez, Steven Seagal, Lindsay Lohan, Don Johnson and Jeff Fahey.