One of the best and most underrated films of all time was 2007's Grindhouse. The film, which was written and directed by Quentin Tarantino and Robert Rodriguez, was a double-feature inspired by the low-budget grindhouse films of decades past.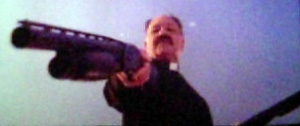 During the "intermission," fake movie trailers were shown. The most popular trailer was Machete. It stars Danny Trejo and Cheech Marin. Cheech Marin is Trejo's gun-toting priest vigilante brother. Memorable quote..."God forgives, I don't."
Rodriguez and Trejo frequently hinted that a full-length Machete film was in the works.
Well, Machete begins filming in two weeks and Cheech is not in it. The film which will be directed by Ethan Maniquis and Robert Rodriguez will of course star Danny Trejo. However, the script was not sent to any of the original cast, not even Cheech.
Rodriguez says they are sending it to "big names," but would only confirm that Michelle Rodriguez has signed.
He also says that Jonah Hill (as Julio) and Lindsay Lohan (as senator's daughter) are considering the script. The rumor is that Robert Dinero (we believe as Cheech's priest character) has already signed.
Read More Here